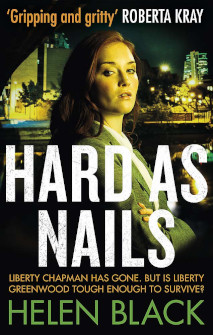 HARD AS NAILS
Out December 2020
Four months have passed since the shocking death of Frankie Greenwood, but Liberty Greenwood has managed to keep the rest of her family safe and expand their criminal empire.
But when Liberty and Jay set out to teach a protection racketeer a lesson things get out of hand and the Greenwoods soon find themselves under attack: the Black Cherry is fire bombed and Crystal is arrested.
Liberty must hold her nerve, make alliances with old enemies and discover exactly who is trying to destroy her. But that's easier said than done with Sol back on the scene, Crystal's baby to care for and DI Angel holding enough information on Liberty to put her away for good. Is Liberty Greenwood hard enough?